by akshay mahajan on 20:08

Imagine yourself walking into a fast food reasturant and order yourself a
"Vada-Pav" and a large coke.This day my freinds is not far behind Mumbai's favourite cheap snack would be reaching a mall near you as we speak.
For those who have never not been enlightened enough to have eaten one ,a Vada Pav(batter-fried mashed potato with bread & chutney) is the daily fast-food staple of millions of Maharashtrians and particular denizens of Bombay.
Back to the post on hand a company in Bombay is selling vada-paav(TM) under the brand of JumboKing , through seven stores all over Mumbai.Now it has been branded and TQMed to compete with McDonald's and is all set to take over the world. This is true reverse globalization-Here comes India!


Vada Pav Trivial

Mumbai?s favourite snack was born 35 years ago, when Ashok Vaidya, a snack seller outside Dadar station, decided to experiment. The combination of batata vada and split pav continues to be the city?s sledgehammer answer to the burger.

Just hoping the Vada Pav at your canteen, Chandralok Gardens improves from, tastless to edible.
Chandralok which if you translate into English means Moon People.Strange name don't you think. ?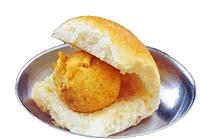 ---
---
---