Everybody knows that an English Breakfast is fried bacon, sausages, mushroom, eggs and tomatoes; a Continental Breakfast is bread rolls or croissants and butter and perhaps jam, with coffee or tea or hot chocolate; but the question I ask today is what is a Bombay Breakfast ?
Here is my look into what fuels millions in this city?

A Bombay Breakfast epitomizes the city in every way- it is fast to cook, diverse, mobile, well packaged, high on carbs and low on greens.

If you have grown up in Bombay you would have noticed a particular piece of food is a perennial part of your diet - bread. Not the sliced 'modern bread' you pick up from the nearest pan-wallah shop. It is

" Pav"

, this 'bread roll' of sorts is delivered straight to your home bakery fresh by the friendly neighbourhood

pav-wallah

. The

pav-wallah

is just one of many visitors an average Bombay household gets - all those friendly faces that keep you busy answering your doorbell through the day -

the dudhwala

(milkman),

the paperwalla

(newspaper boy),

the bhajiwalli

(vegetable grocer),

the machiwali

(fisherwoman) and the string of cats that follow her,

the istriwalli/dhobhi

(the fellow who washes your clothes or irons them or does both),

the jamadar

(garbage-collector),

the watchman

(security at the main gates),

the maali

(gardener - not in all cases),

the bai

(maidservant).. I would have continued but the list is endless.
Once you are all stocked up on

pavs

[by the

laadi

(loaf)] we are all ready.

The

Naashta No.1

[

Naashta

- breakfast] in the minds of most Mumbaikers would invariably involve

the wada-pav

. This carbohydrate bomb of a breakfast snack is probably one of the most munched on. I would be interested to know the number of wada-pavs [in metric tonnes] we eat everyday. If you're not happy with the potato patty you can always substitute it with a

samosa

and you have voila a

samosa-pav

. By the way do you know there is a samosa stall in Lower Parel called Chamosa....know why???....because it sells hot

cha

i with sa

mosa

s.....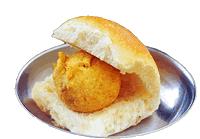 "

Mumbai's favourite breakfast snack was born 35 years ago, when Ashok Vaidya, a snack seller outside Dadar station, decided to experiment. The combination of batata vada and split pav continues to be the city's sledgehammer answer to the burger.

"



[Pipping Hot Samosas and Wadas at Bandra Station, Mumbai]



Feeling a little diet conscious -try

the kanda poha

(flattened or beaten rice with onions).

Bombay is a heterogeneous mix of people, cultures, religions and languages. This reflects on the meals in the city and I am going to classify the breakfast in the city into 3 broad categories -

Maharashtrian, Irani and the Udipi

.

The Marathi Option




For a traditional Mahatrashtrian breakfast option go to

Prakash - Shakahari Uphaar Kendriya

[vegetarian snacks center]. Busybee would suggest Vinay Health Home but I'm sticking with Prakash. A few blocks away from what was Shiv Sena Bhavan lies Prakash [on Gokhale Road, Dadar West] a small eatery that specializes in all things Marathi -

Misal, Pohe, Sheera, Sabudana Vada, Dalimbi usal, Kothimbir Vadi, Puri Bhaji, Piyush etc.


Here is a menu.

It is usually crowded so be prepared for a short wait. The waiters are suitably attired in the Prakash signature pink uniforms and cute Nehru caps with Camlin pencils hinged between their ears. The language switches from

mumbaiya hindi

to

shudh marathi

(which in my case is not all that shudh [pure]). I suitably rewarded myself for waking up at 5 am with

Sabudana-wada

[sago based fried patties] and some hot

Masala Milk

.




You could also have their famous Misal [Puneri], served with Pavs of course.




The Persian Connection



If you want to treat yourself to a grand slam breakfast with all the works, head to an Irani restaurant - perfect for weekends when you can sit back, sip some irani chai and wait for the waiter to fullfill your order that spans half their menu. Breakfast options include - Unda [egg] Bhurji [scrambled], Double Bhurji, omelette single, omelette double, masala omelette [single, double, triple], bun omelette, kheema omelette, bun chuska [huge bun with a healthy dazzle of butter] - I could continue till I drain all the saliva from my mouth. All you have to do is choose a good irani restaurant and I'm not going to name one because I love them all.




Going Down South - Udipi



I am not going to expand too much on this category as the Udipi is a subject I think everyone is well versed in. It is perhaps the most globally accessible form of Indian breakfast dinning- idlis, medu-wadas, dosas, sambhar,chutneys, etc. Head to Matunga for the best in class restaurants.


Till next time have a great Sunday morning and more specifically a large yummy Sunday Breakfast - Bombay or otherwise .
---
---
---